Went to a Conference - Collision
Published: Jun 27, 2022 @ 10:18 AM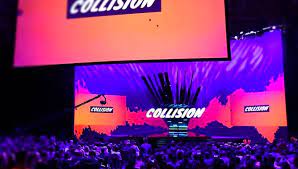 Last week I went to Collision Conference in Toronto. Why you ask? Well it's a great place to hear from people doing and thinking about the future of technology. There are so many startups in early stages, one was only 2 days old, to get a window into what people think will improve the world. As an added bonus there is lots of discussion about the state of funding in the private sectpr which typically is a leading indicator of what the charitable sector will face.
With that said, here are a few quotes from speakers I heard (5 stages running simultaneously with 20 min slots so can't take it all in):
Privacy is our default
We are a startup that isn't making any money so we can start over if we want
2-3 years ago it was hard to get staff now it's funding
We don't know what fundraising will look like over the next 6 months so I would wait until the new year (a second panelist suggested avoiding fundraising for the next 24 months due to the effort to get very little over the 'correction period')
Product development should remain in house as much as possible as that will be a competitive advantage
Growth and revenue are not the same thing, don't hinge those two together
Growth will be stuck for those that have not built with sustainability in mind
Only 8% of all startup funding goes to women and minorities
There is a window of uprising due to the bloodshed like George Floyd, the window won't last so we need to act now
What is your exit plan? What if it isn't to sell but rather to give it to community . . . there is a range of possibilities
Finally, people I enjoyed meeting the most included:
And, running into friends from my hometown of course since the pandemic has kept us apart!
As I discovered the last time attended (pre-pandemic, you remember those days right?), there are very few non-profits/charities at the largest tech conference in North America. We hope that will change as our sector seeks to create societal change and uses technology to support that. Of course, that will require a shifting mindset of funders and deep commitment of boards and . . . anyway, if you are interested in our journey then a coffee is warranted or a walk and talk as I did with our friends at Volunteer Toronto while there.
Doug