Blue January? We don't think so!
Published: Feb 2, 2021 @ 1:07 PM
January has not been blah or blue! We have had four Januarys on VolunteerConnector and here is what we know from that:
This January with varied and widespread restrictions across the country, humans are still seeking connections through doing good work in their community. January 2021 actually looks remarkably pre-pandemic.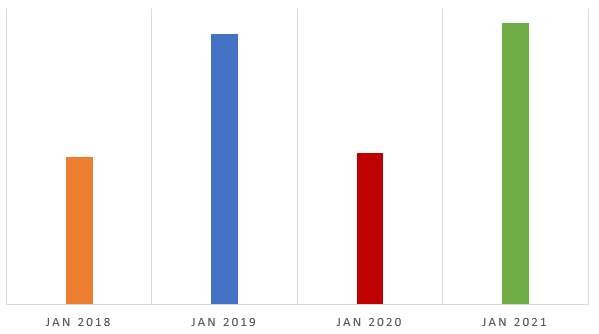 In order to make sure VolunteerConnector is reflective of the needs of the community it archives postings after 90 days. Here is the catch . . . organizations have the ability to retire their posting once their opportunity has filled! This graph compares the number of opportunities taken down by organizations in each January (2018-2021).
More organizations archiving their own opportunities means more volunteers finding places to share their skills.
Also "Blue Monday" was the busiest day of the week on the Connector . . . so this all seems like a pretty good way to start the year!