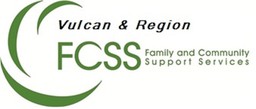 Vulcan and Region Family and Community Support Services and Vulcan Food Bank
105B 3rd ave south P.O. Box 594 VULCAN AB T0L 2B0
403-485-2192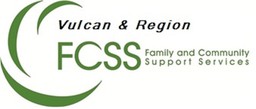 Vulcan & Region FCSS provides services of a preventive nature that enhances the social and personal well-being of individuals and families through promotion or intervention strategies. Our programs and events:
1. Help people to develop independence, strengthen coping skills and become more resistant to crisis;
2. Help people to develop an awareness of social needs;
3. Help people to develop interpersonal and group skills which enhance constructive relationships among people;
4. Help people and communities to assume responsibility for decisions and actions which affect them; and
5. Provide supports that help sustain people as active participants in the community."

We also partner with a variety of groups and agencies assisting with planning, coordinating and funding, as well as provide external funding that assists other non-profit groups, agencies and organizations that offer preventative social services within Vulcan County.