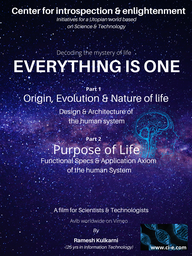 Center for introspection & enlightenment
15833 26 AV Unit 2 SURREY BC V3Z 2X5
778-984-5855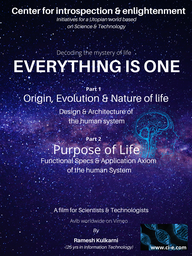 Center for introspection & enlightenment is a non-profit org incorporated in British Columbia Canada. CIE has launched initiatives for a 'Utopian World'. Its mission is to enlarge the human vision and enable human race to evolve into a advanced specie.
'Everything is One' - are films for Scientists and Technologists. The future of human race has to be driven by scientists and Technologist.
In 2006 our Center launched its 1st Campaign - for eradicating material poverty. The 1st documentary film made by the center was 'The American Way. Connecting the dots...' This film was screened to the planning commission of India & Prime Minister Office(PMO) & other Govt Depts in Oct 2006. Subsequently 10 major bills were passed in Indian Parliament in 2007-2008 ie Social security Bill, Old peoples bills, Disability bill, Aadhar (based on SSN in USA) initiatives etc. Our center's initiatives have helped millions of poor people in India. Our center now plans to launch the outreach of this film to all the poor & developing nations. In 2019 Center has launched 'Initiatives for a Utopian world' . Center's mission to change the Destiny & Journey of the human race. And to enable every human being to achieve his purpose in life...
Current Volunteer Opportunities