Kelowna & District S.H.A.R.E. Society
581 Gaston Avenue Kelowna BC V1Y 7E6
250-763-8117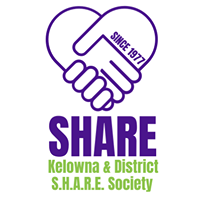 SHARE Society is a nonprofit organization that supports the Kelowna community through Self Help Arts and REcreation. SHARE is dedicated 100% to giving back to this wonderful city. We are different from other thrift stores since our profits from our store go directly into funding our in-house social programs.

These carefully crafted SHARE Society programs include;
-Adopt-a-Family Hamper Program
-Community Assistance Program
-Community Service Worker Program
-Details of Retail Intro Program
-Volunteer Engagement Program
-Work Experience, Transition to Employment, and Work Place Assessments

SHARE aims to keep to our roots, from humble beginnings when our founder put out the call in Kelowna to help Vietnamese refugees new Canada. From there we have adapted to aid in specific needs as they arise for families and individuals in our community.
Current Volunteer Opportunities