Making Changes Association
6516 1A ST SW Calgary AB T2H 0G6
403-262-5776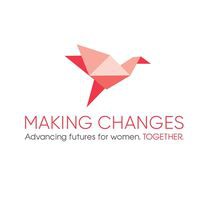 Advancing futures for women. Together.

Making Changes is a local non-profit organization that helps women and teen girls transform their lives to overcome barriers, open doors and create their own paths. We provide programs and service that encourage women to make meaningful contributions to our community.

Over the years, thousands of clients have found their way to us – each with their own unique story. We help our clients prepare to enter/re-enter the workforce or continue their education, whether they are Canadians experiencing challenges or immigrants starting new lives in Canada.

For over 30 years, Making Changes has been integral to Calgary's "women-helping-women" network. Our work could not be possible without thanks to our 250+ volunteers, staff, trusting clients and many community partners, referral agencies, donors and supporters.

We are looking for volunteers who want to take an active role in making Calgary a better place for women and their families. Examples of volunteer roles include:
Image Consulting/ sorting clothing at The Walk-In Closet or My Best Friend's Closet, Bingos, conducting mock interviews for the Employment & Life Skills Program or helping us with special events such as our annual YYC Chic fundraiser.