Alberta Dance Theatre
PO Box 94061, RPO Elbow River Calgary AB T2G 0Z9
403-616-3801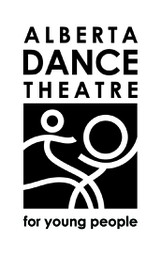 Alberta Dance Theatre provides an outstanding and unique program to dancers in grades 2-12 in Calgary through an intense 10 to 12-week program where dancers engage in a creative process alongside professional artists. It is through this educational experience that dancers not only learn to create choreography and gain performance training, but also develop skills such as creative problem solving, healthy risk taking, collaboration, and leadership.

Founded in 1979, ADT is going to present our 40th annual professional production featuring choreography, script, music, costumes, props, and lighting design all crafted specifically for this year's performance. A rich tradition has been established that provides imaginative, engaging and affordable family entertainment to Calgarians.

Works of the company have been performed around the world in Brazil and The Netherlands, and province-wide in Edmonton, Banff and Lethbridge. The young dancers in ADT participate in outreach activities including volunteering, performing at Senior's homes and local festivals, and donating tickets to families in need.
Current Volunteer Opportunities