Volunteer Grandparents
203-2101 Holdom Ave Burnaby BC V5B 0A4
604-736-8271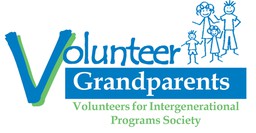 Volunteer Grandparents supports and encourages multigenerational relationships and the concept of the extended family.

Mission: Our mission is to "bridge and enrich the generations" by fostering intergenerational understanding, communication and cooperation between the generations.

Volunteer Grandparents provides three main programs: the Family Match Program, the School Grandparent Program and a Letters To Seniors Program.
Current Volunteer Opportunities